The next step is to establish one's
五行局 「Wu Xíng Jú」
or 5 Elements Phase.
The rule here is, the Life Palace Stem and Branch determines one's Element.
To simplify this step, please refer to the summarised
Table
.
In the example provided, the Life Palace Branch being
巳 Sì
, and the Stem of the Year of
Birth being
甲 Jia
, therefore, the owner of this Birth Chart has the Element of Wood
木三局
.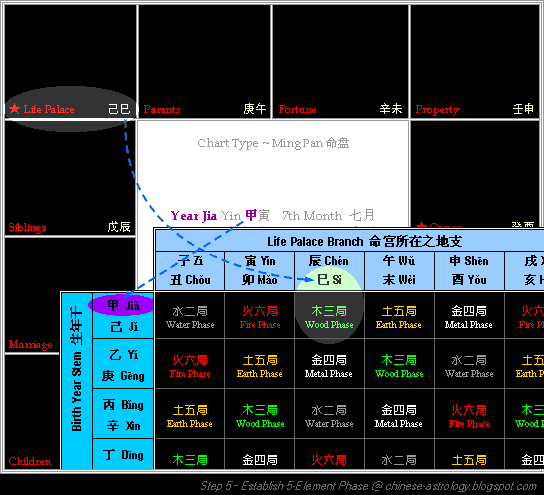 To double-check, refer to the
花甲纳音 「Huā Jia Nà Yīn」
Table
. In this case, the owner of the chart
has her Life Palace at
己巳
, therefore she is a
大林木
(Forest Trees), which is Wood Element
木三局
.
Now that we've completed the framework of the Birth Chart, we will be proceeding to the mapping of the Stars.